When we initially talk with new or existing clients about starting a web development project, one of the most common questions we are asked is 'how much will it cost?' Unfortunately, this is one of the most difficult questions to respond to because just as every business is different, so are their website requirements.
If you are in the process of seeking quotes or proposals to develop a new website, we've summarised a few things to think about to help you understand how much your website may cost, and ensure you find a supplier that is the right fit for your project and business.


What impacts the actual cost of a website?
There are a range of factors that will impact the final cost of your website. This not only relates to the size and scale, but also the level of functionality, features and integrations. Some key items that will impact the cost of your website may include (but is not limited to):
Size: Is your website just a few pages, or will it require many pages of content? How many different 'sections' are required and do they require unique or customised presentations beyond basic text and images? The number of page 'templates' required across a website will impact overall cost.


UX/UI Requirements: Are there complex user experience (UX) strategies that need to be addressed? Do you have an existing brand that can be applied to the design? The level of complexity in clarifying unique UX strategies, design requirements and the level of interface features (i.e. animations, animated user interactions, unique mobile or desktop experiences) impacts time investment of your supplier, and therefore cost.


Features & Functionality: What kind of features do you need on your website? Do you need these customised? Customised features impact overall cost. Depending on your choice of CMS, some features can be implemented 'off the shelf' and the level of customisation can vary depending on your requirements. Completely custom features built from scratch will cost more.


Integrations: Are there any software or systems that you need integrated? Integrations are broad and varied. Some basic integrations such as social media or other online platforms such as Eventbrite or EDM software are likely to require less time investment than more complex systems such as a CRM or point of sale system. Ensuring your supplier has a clear idea of the purpose of any integration as early as possible in the web development process will help them estimate costs more accurately.


Security: The level of security required on your website can also impact your overall cost. Complex levels of security can require significant time investment in development, so being clear with your supplier if there are any security standards or levels you need to adhere to is important.


Engagement Requirements: Outside of technical or functional requirements, are there any specific engagement needs or milestones that need to be achieved. For example, do you need to seek board approvals, is there a specific launch deadline, or are there other groups or individuals who need to be engaged as part of the project? This may or may not impact the cost of your website depending on your supplier and the needs of the project overall.
So with all this in mind, where to from here?


Start with a clear brief
If you are seeking quotes or proposals for a new website development project, make sure you are comparing apples with apples. Starting with a clear brief that your suppliers can respond to is key.
Every web developer will approach a website quote differently, so it is important that you ask the right questions, compare what they are promising to deliver and find a supplier that will work for you.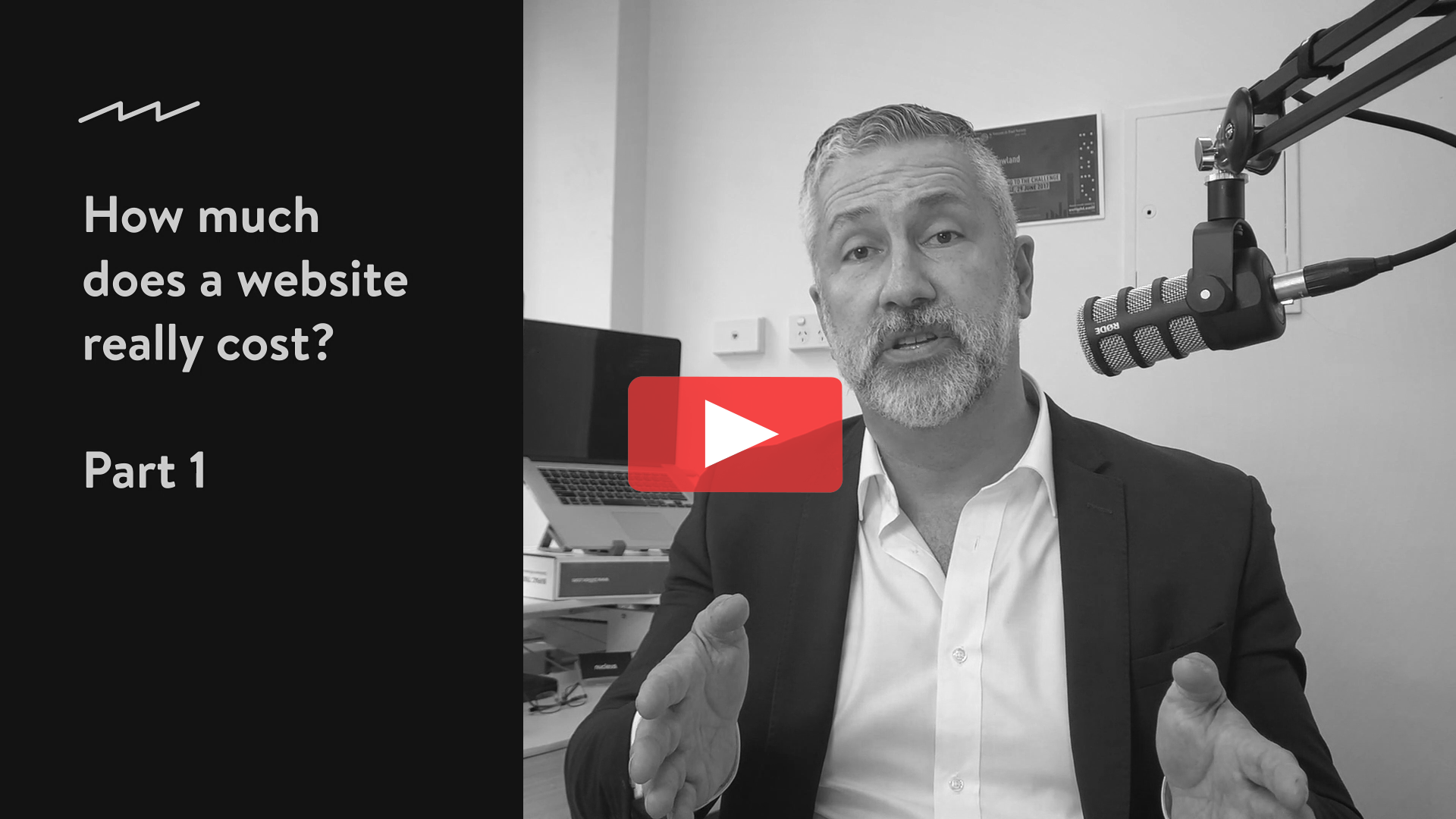 If you are about to embark on this process, it is a good idea to start with a clear direct brief. Check out this video for more information on what to consider.
The difference between a proposal and website scope
With a clear brief, most suppliers should be able to provide you with a preliminary proposal with an estimate or budget range for a website solution that meets your requirements. This will provide you with a 'guide' to how much your website will likely cost. Depending on the size of the web solution, this proposal will also include a cost for 'website scoping'. In these instances, the outcomes of scoping will provide you with a firm cost for your new website.

What is scoping?
The scoping process is one of the most important stages of web development and will involve meeting with your key internal stakeholders to understand all requirements for the new website. This is where your supplier will go into detail of all site features and functionality, and the outcome of this process is a website scoping document. This 'scope' is the blueprint for the project and assures that both you and your supplier are clear on approach, requirements and deliverables.

Scoping to a budget
Most suppliers can scope to a budget if you have one. In instances where scoping reveals a requirement or desired functionality not identified during proposal stages, these can be estimated and discussed in addition to agreed budgets. This is why briefing is important upon initial proposal requests - it mitigates surprises when you commence a project.


Some helpful tips...
If you are about to embark on a new website development project for your organisation or business, here a few things to think about when going to market for proposals and selecting a supplier:


Create a Brief: Develop a clear brief when seeking proposals.


Ask Questions: Ask questions of your suppliers when comparing proposals to ensure you are getting the best value for your investment and you are comparing apples with apples.


Understand the process your supplier is proposing: As important as capability and expertise is, so is the working relationship. Make sure their approach will work for you and your team.


Make sure you understand the website scope: Ensure you read and understand the scope of work for you website development project. Ask your supplier to clarify anything you don't understand.


Consider value beyond price only: Many of our clients have fallen into the trap of taking the cheapest option believing this to be the best value for their business. In many cases, often the final outcome has just not worked for them or they end up not getting what they thought they would - in these circumstances they often need to 'start again' and end up paying for their website twice. Make sure you think about whether the solution will deliver on your objectives, and if budget is a sticking point, think about 'staging' development in a way that will allow you to spread the cost over time.